My lost dolls
Due to my disastrous computer crash a year ago, three dolls were lost.
Click here to go back to my little kiss page.
Ah well. Below, the chinese nations doll was supposed to have 56 full outfits (each outfit consists of around 5 items of clothing) to represent the 56 nationalities of China. I had finished around 10, when the crash occured. This is one doll I'm REALLY going to miss, because I think I've worked harder on getting clothes to look accurate (from pictures of stamps) than on any other doll.
This page is mainly a tribute to this doll; however, there are two other dolls below that also were lost.
This fashion doll already had pages of my newly invented fashion designs. Her face is not beautiful, but then, she's a model; we only look at her figure, right :)
I'm glad I made this picture of her, because this black gown is one of my favorite eccentric evening gowns.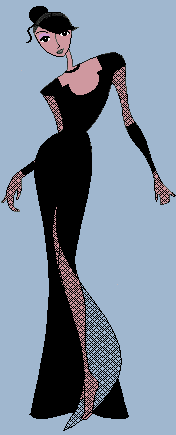 This was supposed to be Asuka Chieri's continuation. All her shading was done through paintshop pro.
I'm not as sad about this doll as I am about the other two, because she was VERY hard to work with
She only had a few clothes; I didn't lose much.