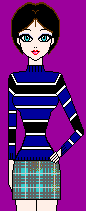 Karalyn's Updated Portfolio
Click here to download Karalyn2
Click here to go my to my kiss page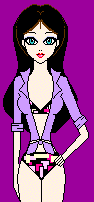 I love her evening gowns, simple as they may be. The texture of the red velvet gown took a long long time to copy and edit from a tiny little square into a full-length dress.
The white outfit with the purple see-thru shirt is also another of my favs, because it just looks like she's out for a day of major credit card shopping, or some-thing to that effect.


There are a lot of clothes sqeezed together if they are all on one screen; However they are spread apart in some sets.